Your Fear Free Certified Team in Bloomfield Hills
DePorre Veterinary Hospital is committed to providing the best care to pets, and that care includes their mental and emotional well-being, too. That's why we've invested time and resources into training our team to become Fear Free Certified Professionals. After undergoing an online training program, these staff members learn to better detect anxiety and fear in pets, and better yet, they learn how to address it.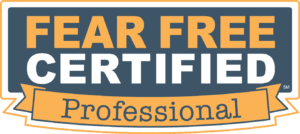 Calming Pets with Fear Free Techniques
Each pet is different, so our techniques are varied in order to accommodate each and every one. When you bring your pet in to see us, we listen to you and watch them to teach us what makes them uncomfortable. Then, we'll address their fears with positive reinforcement, gentle handling, and plenty of treats! Here are some of the ways we make your pet feel comfortable:
We let dogs come to us. Dogs can interpret direct eye contact from a stranger as a challenge. So, we'll address you first and ask about any changes in your pet's behavior or health and let your dog warm up to us.
Giving cats their time. Cats are notoriously wary of new environments and may be frightened to come out of their carrier. We try to give them the time they need to come out on their own.
Positive reinforcement. Even if it's only a simple accomplishment, like coming out of their cage, or sitting nicely for a shot, we use loads of positive reinforcement to encourage cooperative behavior at the vet so they can expect only good things at their next visit.
Low-stress handling. You wouldn't like to be pushed around, and neither does your pet! We use low-stress handling that requires minimum restraint so pets never get panicked about being held.
Food motivation. Food is a welcome distraction for pets and it helps us do our jobs better! When a pet is preoccupied with food, we're able to examine them more thoroughly, administer vaccines with no fuss, and tend to injuries with no recoil.
Experience a Fear Free Veterinary Visit
Visit us at DePorre Veterinary Hospital and experience a veterinary visit without the stress! Our Fear Free Certified Professionals will be quick to greet you and put your pet (and you!) at ease. Schedule an appointment today!