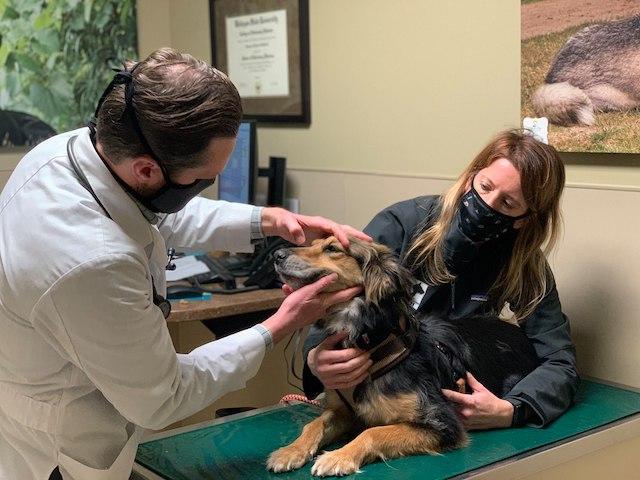 Wellness Exams for Pets in Bloomfield Hills are a Priority
Pets can't tell us exactly how they're feeling. And to make things harder, dogs and cats are experts at hiding illness, so even their behavior is very hard to read. Comprehensive pet wellness exams allow us to examine your pet on a regular basis, get to know their baseline for good health, and readily address any changes immediately. Prevention is the key to long-term health and wellness. At DePorre Veterinary Hospital, we serve Bloomfield and area pets with veterinary services that not only treat illness but help prevent it, too.
Pet Wellness Exams and Services
Illness can develop quickly, and you may not notice anything is wrong until the disease is much more developed and harder to treat. With annual pet wellness exams, our skilled veterinarian and team evaluate your pet from nose-to-tail and everything in between. We not only rely on physical exams, but perform regular diagnostic testing to discover any underlying issues as well. Our pet wellness care services include:
Physical exam, including eyes, ears, nose, and mouth
Fecal exam to check for internal parasites
Urinalysis if needed
Vaccinations if due
Blood work to screen for diseases
Further diagnostics including X-rays and ultrasound if needed
Parasite Prevention
Parasites are a serious concern for any pet, but consistent prevention keeps them free of pests and the diseases they carry. Fleas, ticks, mosquitoes, and other nasty bugs could be carriers of internal parasites or diseases such as tapeworms (from fleas), Lyme disease (from ticks), and heartworms (from mosquitoes). Regular prevention keeps them at bay, and that means full protection through the winter months, too. Parasite preventatives come in many forms including topical solutions, tablets, and collars. Our veterinary team will be able to discuss the best option for you and your pet.
Behavioral and Nutritional Counseling
Caring for your pet's entire well-being means addressing their diet and behavior, too. We provide both behavioral and nutritional counseling to pets and their parents. There could be many reasons for behavioral problems, so we'll work with you to discover the source of the problem as well as the solution to correct it.