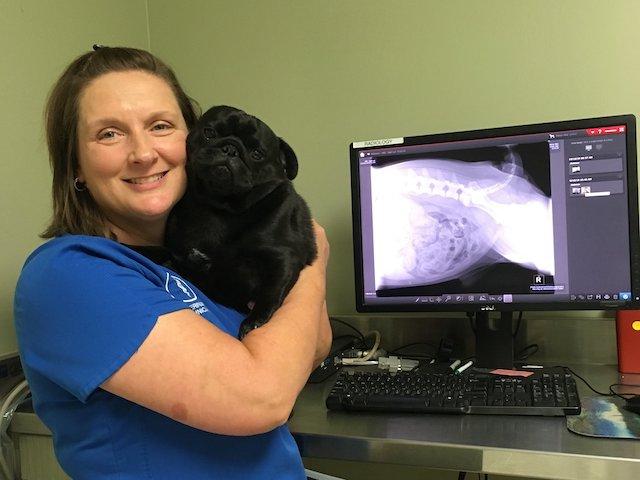 Pet Diagnostics Contribute to More Effective Treatments
While we have expert eyes and hands, they can't see and feel all that is wrong with your pet. Your pet's internal health is only available to us through pet diagnostics, including laboratory tests and advanced imaging. We use our in-house equipment regularly to paint a fuller picture of your pet's entire health so we can develop more informed and more effective treatment plans.
In-House Laboratory Testing
Our in-house lab has the capability to run a number of biometric analyses on your pet. We use it extensively for pre-anesthetic blood work before dental procedures and surgeries. Having an extensive lab in-house means we have your pet's results back in minutes and can often produce a diagnosis right on the spot. With our full lab, we can run the following tests:
CBCs (complete blood counts)
Blood chemistry panels
Urinalysis
Fecal exams
Cytology
Skin scrapings
And more
Digital X-Rays
A digital X-ray boasts quite a few more benefits than its film predecessor. It emits significantly less radiation, is faster to produce, creates a crystal-clear image, and can be shared easily as a digital file moments after it's been taken. We offer both full-body and dental digital X-rays in our Bloomfield animal hospital. X-rays are useful for a number of situations, particularly if we suspect:
Broken or fractured bones
Bladder or kidney stones
An ingested foreign object
Organ disease
GDV (gastro-dilation volvulus or bloat)
Tumors
Ultrasound
Similar to X-rays, ultrasound lets us see your pet's internal structures. It uses ultrasonic soundwaves to create a live image of organs, the abdomen, and soft tissue. It is useful, often in conjunction with digital X-rays, to diagnose:
Bladder or kidney stones
An ingested foreign object
Organ disease
Tumors
Pregnancy
And more
Contact us today at (248) 646-1669 to learn more about our pet diagnostics and how we can help your pet.