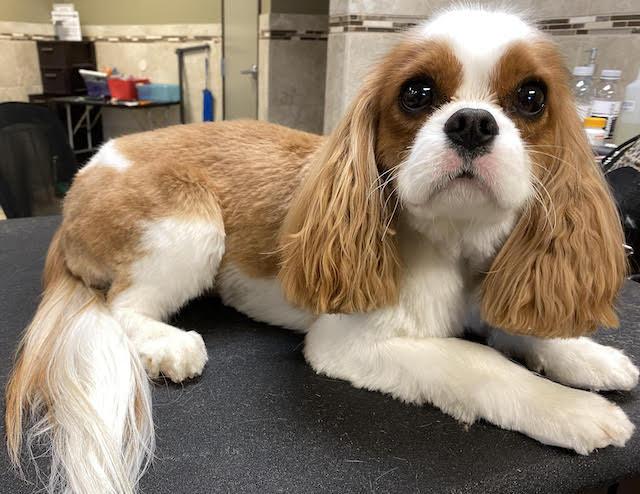 Cat and dog grooming may seem like a purely aesthetic service, but it is so much more. Your pets receive a deep clean and a trendy cut that looks good and makes them feel good, too. Both dogs and cats benefit from a grooming experience, so make an appointment at Bloomfield Pet Grooming today!
Remember, we have a separate number from the main animal hospital, so call us directly at (248) 792-3300 to book your cat or dog's grooming appointment.
What to Expect for Cat and Dog Grooming
We deliver more than a pampered experience. Our dedicated grooming staff provides exceptional care to pets and takes their entire well-being into account. They recognize that some pets are anxious about grooming, so they use gentle handling, positive reinforcement, and other fear-free techniques to help pets enjoy the experience. We offer many services to promote a healthy coat and skin including:
Deep-cleaning bath
Medicated shampoos for pets with sensitive skin or allergies
Brush and blow-out
Specialized cuts
Anal gland expressions for dogs
Ear cleaning
Nail trims
If any skin abnormalities are found, we will alert you and you can decide if you want a veterinarian to examine your pet while here.
Quality Veterinary Care Just a Few Steps Away
For your convenience, appointments for cat and dog grooming can be coordinated with your veterinary appointments! This is especially useful if we've found any skin abnormalities. The vet will be able to take a look right away and run diagnostic testing if needed.
Medical Boarding for Pets with Special Needs
Beyond the grooming aspect, Bloomfield Pet Grooming also houses our medical boarding facility which is available Monday-Friday. Medical boarding is reserved for pets with special needs who require consistent care while they're away from home.
Contact us today at (248) 792-3300 to inquire about our cat and dog boarding availability and if your pet is eligible.